Christmas came and went so fast this year.
Well, it goes by fast every year, but I just feel like it was a whirlwind couple of days.
Looking back, I am wishing that I would have hired a photographer to take pictures all day Christmas Day. I'm not even sure I could have found someone to work Christmas Day.
It might sound crazy, but my whole, huge family was here most of the day and I hardly got any pictures!
Since it was our last Christmas in this house, I was extra emotional about it and am wishing I had more pictures of everyone in the house, all together!
I am positive that Christmas will be different from now on. I don't see everyone traveling to Texas to spend it with us and while I completely understand, it makes me sad.
Lots of tears were shed that day.
But, the lack of pictures that I took, shows how much we all enjoyed the day together.
I may or may not have made my sweet little family of four get dressed up again the next day so that we could get a picture of us all together in front of the tree, once I realized that we hadn't taken one. It was our last Christmas in this house, we just had to have a picture together in front of our tree!
There is something so special about Christmas when you have children. Watching them in awe of everything is magical. The joy that radiates in their eyes and through their smiles and laughter is something that I wish I could bottle up and keep forever. Teddy was so excited about Christmas morning that he woke up at 5 am. He stayed in his room until Reagan woke up, but we heard him at 5. He may have been up earlier than that. I loved how excited he was this year. Reagan also completely understood everything this year too! She was so excited too! But when she woke up, she kept asking where Santa was. She thought he dropped off the gifts and then waited for them to wake up. Sweet little girl.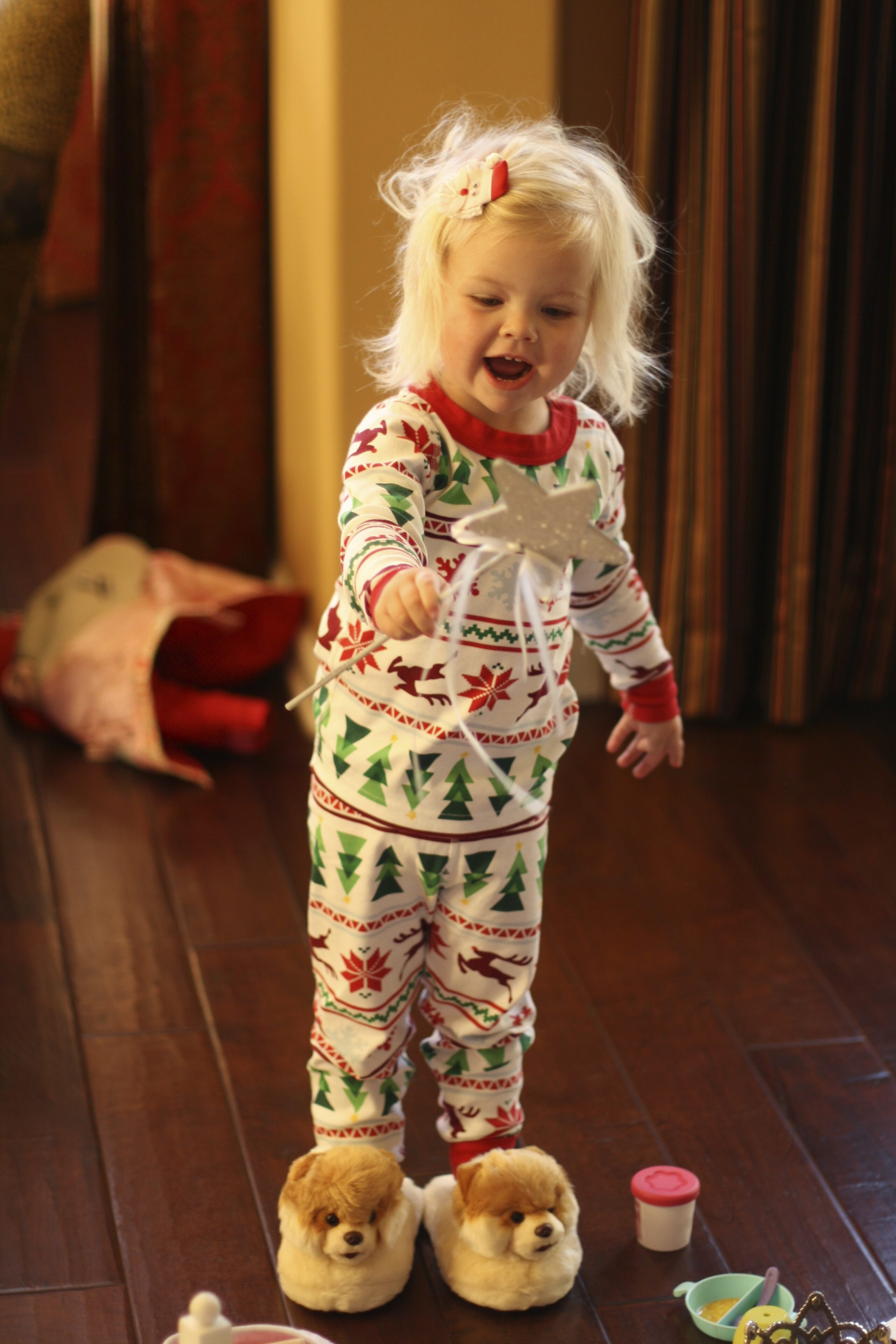 These Boo slippers were a HUGE hit!
Watching the little presidents open their gifts that they bought each other was the sweetest thing. They were both so excited!!!
This chair that Boo received was also a huge hit. He's a huge fan of it and so is Reagan. ("From Santa" tag purchased here)
This glitter tree was my gift that Teddy made in school and I love love love it! I can't wait to start a Christmas tree with all their handmade ornaments!
Love this picture of my sweet guys together.
Reagan received some princess crowns and wands as gifts and asked me to play with her and brought me a crown and wand. "Mommy, you pay pincesses with me?!" How can you say no to that?! This will always be a favorite picture of mine. I cherish these moments that we get to play together!
We continued our Christmas morning tradition of cinnamon rolls, egg casserole (which was the best ever and made with gluten free bread no less!), fresh berries and mimosas! This is a favorite tradition of mine! I love my Spode collection that my mom started for me a few years ago. Nothing says Christmas meal, like eating it on a classic Spode plate. I plan to start a collection for both little presidents at some point too.
They are goofballs.
These two.
Oh how I love these three (well, four, counting sweet Boo!)
My love. I'm so glad this is the guy that I get to do life with.
*My shirt can be purchased here. My pants are J.Crew circa 2012. **Teddy's shirt can be purchased here (bonus! it's on sale! I stocked up for the next few years! ha!). ***Mr. Fancy's shirt can be purchased here. ****Reagan's dress was purchased in fall 2012 off a Facebook auction page.
I love this picture of Teddy and my nephew, Graham. He keeps telling me he wants "a Graham." Haha.
My mom and me. We shared a few tears that night. I hate that we won't be a 2 hour car ride away anymore. Now it'll be a plane ride. Being that far from my fam is bumming me out. Hoping for lots of visits!
My sister, dad and me! We were cooking up a storm! So much fun!
I love these two pictures of our full house. It was one of the best Christmases and everyone had such a nice time. A full house is the best kind of house. Oh how I  love all my people.
I hope you had a very Merry Christmas surrounded by the people that you love and by the people who love you. These pictures bring tears to my eyes knowing that this was the last Christmas that we will host in this house and probably the last Christmas that we will ALL be together. As our friend (who is family) said on Christmas, "It's the end of an era." Since we have all spent Christmas together for the past few years. I'm grateful for all the Christmases that we have spent together in this house. I look forward to new memories, but I'm going to miss this.