Today for Home Tour Tuesday, Reagan is giving you a little peek into her bedroom. To say this is a favorite space of her's would be an understatement. She spends many hours setting up tea parties, dog shows, coloring pictures and setting up booby traps so we can't get in! Ha! Reagan's bedroom was something I started in my head after she turned 2. I knew I wanted to incorporate a floral, buffalo check and a dalmatian print since she loves dogs so much. Started collecting items for her room as I found them. The floral fabric was one that my bed friend had bought a huge bolster of and she gave it to me. I love it so much and so does Reagan. It's really the perfect floral fabric. Her dresser, mirror and nightstands were vintage pieces that I purchased when I was prego with her. They have since been changed to match her big girl room. I hope this mirror will always be in her house in some capacity. It was baby blue in her nursery and then we painted it white and added gold glaze to the top for her big girl room. Every single little detail of this room has been approved by her. It has been a blast to work with both little presidents to create spaces they love and are proud of. When people come over to our house, they always want to show them their bedrooms and the playroom. This makes my heart burst with joy. I love that they love their rooms!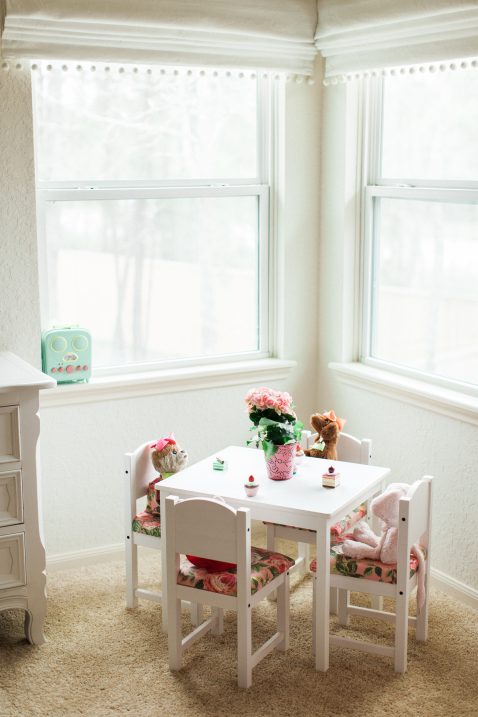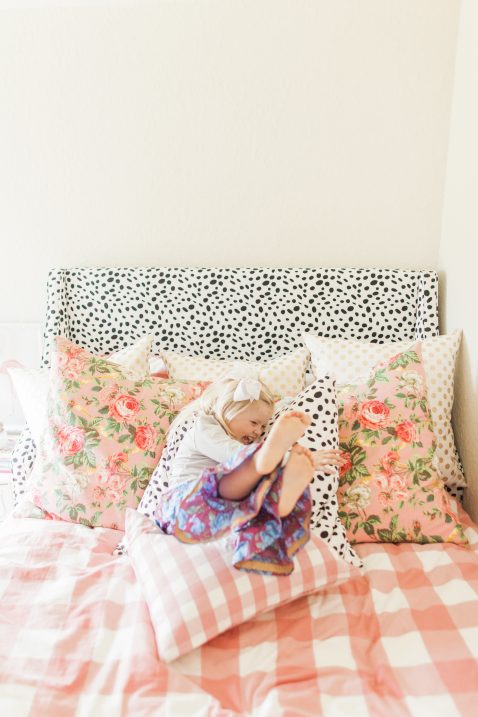 *This post may contain affiliate links
The Deets:
Comforter, Ikea, similar HERE
Floral Pillows, made by me
Spotted Pillow, made by me
Gold Polka Dot Pillows, HERE, similar HERE
Spotted Headboard (similar HERE and HERE)
Dresser, vintage, similar HERE
Nightstand, vintage, similar HERE
Lamp, similar HERE
Flamingo Painting made for Reagan by Susie Bettenhausen
Glitter Monogram, made by Savannah Knudsen. Contact HERE to order.
Gold heart print, Kardz Kouture
Pink Chalkboard, made by me
Confetti Play Tent, similar HERE
Tea Party Table, made by me, see DIY HERE
Mirror, vintage, similar HERE and HERE
Create a similar look:

I hope you enjoyed this peek into my little lady president, Reagan's bedroom! We'll be back next week with more of our home! If you missed last week's, you can see Teddy's superhero bedroom tour HERE!
Have a fabulous Tuesday!!
Ps how are you liking the little facelift that the bloggity blog had? I love it so!
Photos by Jen Dillender Photography