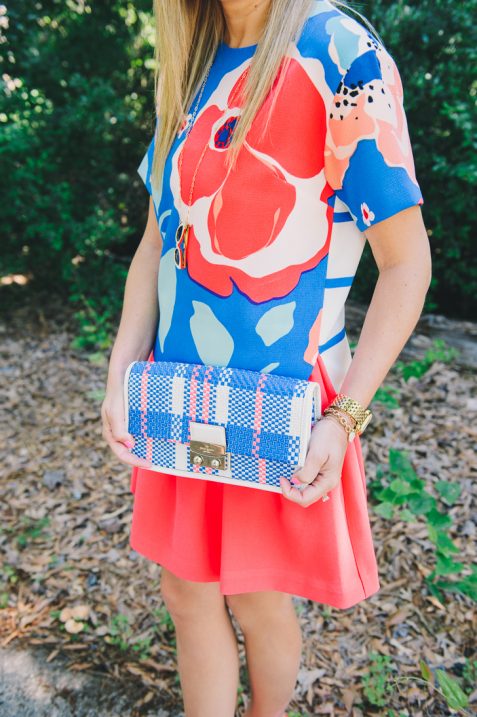 Skirt // Top // Necklace (similar) // Clutch // Shoes // Earrings // Lipstick (Color: Candy Yum Yum) // Lipgloss (Color: Electric Violet)
While I was in Dallas at the conference a couple weeks ago, on day one, I had a day full of meetings. I wanted to wear something cute and casual, but also comfortable. This look was all of those things. I love that I can wear this skirt again and again. You know I love the clothing items that you can pair with lots of different items. This skirt would be adorable with a basic white tank! I loved the top so much as well. Floral, stripes and bright colors! So ME! This top will definitely be making an appearance with my white jeans soon and my denim shorts as well. This clutch is pretty much amazing. I saw it and was like "yep, this is a necessity!" It reminds me of patio furniture from the 70's. It's so fab! I think it would be super cute paired with this outfit as well. This whole look is a favorite of mine from the weekend! I love the look together, but I also love the versatility of all the pieces separately. You can see what I wore on night one of the conference here and what I wore on night three of the conference here.

I hope you're having a fabulous week! XO!
This post may contain affiliate links
photos by Kara Hoey