If you follow me on Instagram, you've seen me post about the crazy rain we've been having here. And seriously, as I write this post, its POURING outside again. We had a nice break in the weather for a couple days and we got to enjoy some fun in the sun and some fun in the pool! Yay for popsicles and SUN! As I shared a few weeks ago in this post, I always head to Nordstrom to get the whole fam bam prepped for summer. I love how I can pick up items for the whole family. I can outfit myself, Mr. Fancy, the little presidents and I can even buy awesome items for the house and even fun floats for the pool! Talk about a one stop shop! Nordstrom has such a great selection of kids' items. I love their shoes and all their summer essentials. Teddy and Reagan are huge fans of Native Shoes. They pretty much wear them ALL summer!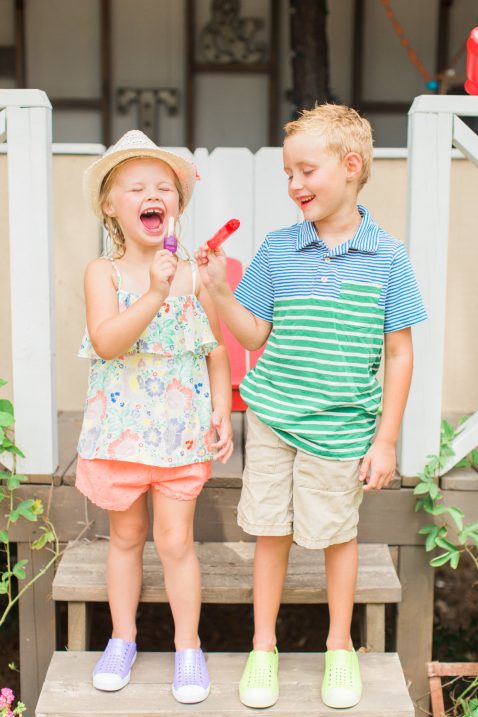 On Reagan: Top // Shorts // Shoes // Similar Hat // Swimsuit 

On Teddy: Shirt // Shorts // Shoes 

I fell in love with this top and these shorts for Reagan. Seriously, I would wear this outfit myself. Teddy loves green, so when I saw this shirt, I knew he had to have it. He loves a soft, collared shirt, so this one is perfect for him. He wears a lot of plain colored khaki shorts because he wears a uniform to school and that is one of the pants color options. This pair is great and we love them! Like I said earlier, they love their Native shoes! So many color options at Nordstrom. Check them all out here! To see more of my favorite summer essentials for the kiddos, head to this post!
Click the pictures below for a few more items that we love for the girls:

Click the pictures below for a few more items that we love for the boys:

Hope you're having a fabulous week! It's almost the weekend!
*Thank you to Nordstrom for sponsoring this post! All opinions and cute popsicle-loving kiddos are my own!
Photos by Abbi Hearne