Happy Monday, peeps! I think LOTS of kids are starting school today! We actually don't start until Friday, although my kids are wishing they started today! They cannot wait to start school! I love that they love school. That is such a happy thing to me! It's great to know that they love this place where they spend a good chunk of their days. Both little presidents are blessed with fabulous teachers this year and I just couldn't be more thankful for that! First grade and Kindergarten, here we come!
As fall is quickly approaching and with school starting, I have been searching for easy, go to outfits to get me through my days. As usual, I hit up my trusty Nordstrom to get me (and the little presidents! more on that soon!) all prepped and ready. I found these amazing UGG SLIP-ONS and seriously, they could not be any cuter! UGG has SO many different options these days! I am still so in love with my BOOTS. I have them in THREE COLORS, because, you know, everything in moderation. Their slip-ons are so cute. I think I might need this PINK PAIR, too! I also loved this pair of BOOTIES! Might add them to the closet next! How cute would they be with jeans? I settled on THIS PAIR of slip-ons, because I think this leopard print is such a neutral and I can see myself wearing them all fall. Whether it be to a school function, lunch with friends or a day of shopping (as I am doing in these photos!), I think they are the perfect fall shoe. Nordstrom has lots of different UGG options, so if you're not in the market for a pair of slip-ons, you should check out all the options HERE.
UGG Slip-Ons // AG Jeans // Peplum Top // Clutch ($25!!!) // Sunglasses // Lipstick (color: #49)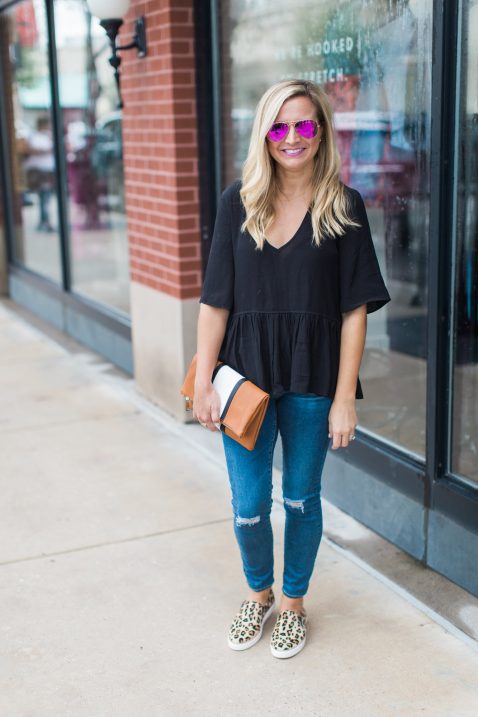 UGG Slip-Ons // AG Jeans // Peplum Top // Clutch ($25!!!) // Sunglasses // Lipstick (color: #49)

*click the items to shop the item directly
Which is your favorite pair of UGGS?! Have a great Monday! XO!
This post was brought to you in partnership with Nordstrom. I love collaborating with brands that I love and trust. 
Photography: Abbi Hearne