Happy Tuesday, peeps! Are you ready for Thanksgiving?? It's in two days!!! And then Black Friday and Cyber Monday? We are gearing up here and oh so excited! Today, I am sharing 50 gifts under $50 for women. There are some great options for all the gals in your life! My GIFT GUIDES are in full swing and you can access them at any time, by clicking this red button in my sidebar!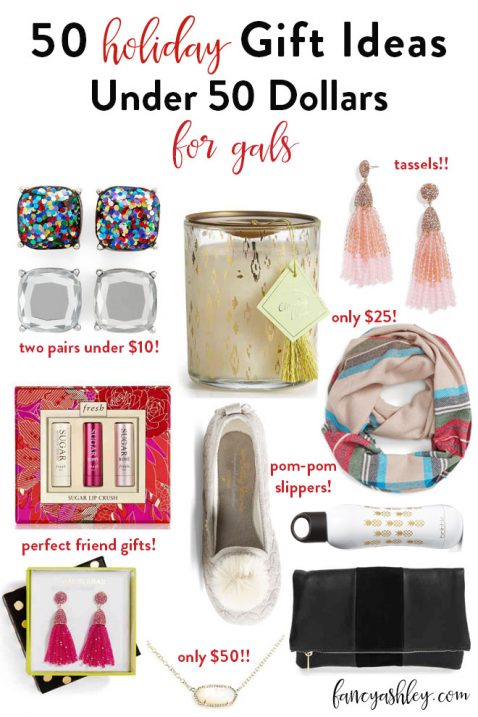 Here are 50 gifts that I am loving, under the $50 mark:
2. Liquid Therapy Wine Glasses
6. 2 sets of Earrings (under $10)
10. Pom-Pom Slippers
12. Candle
14. Water Thermos
16. Dog Platter
19. Hobnail Glass Cocktail Shaker
21. Gold Flecked Votive Candle Vases
22. Lustered Latte Mixing Bowl Set
23. Cheese Knives
24. Dachsund Stapler
26. Cooking for Jeffery- A Barefoot Contessa Cookbook
27. Floating Glitter iPhone 6 & 6 Plus Case 
28. Skinnytaste Fast and Slow Cookbook
34. The Love and Lemons Cookbook
35. Kai Travel Set
36. Happy Plugs Marbled Ear Plugs
46. Yellow Gold Stainless Steel S'well Water Bottle
47. Emoji Flask
49. Glitter Flask
50. Hugs and Kisses Stemless Wine Glasses
We will be back here over the next few days with ALL the best sales and deals for Black Friday and Cyber Monday! I've got you covered! I hope your week is going fabulous so far! XO!
Ps in case you missed the past few days, I shared KIDS HOLIDAY PAJAMAS yesterday! So many cute festive options for the kiddos!