Hi friends and happy Friday to YOU! I hope you've had a great week! We are moving and grooving here. I feel like October is the start of such a busy and exciting season!! I still can't believe we are 4 days into October! I saw a thing the other day that said it's only 12 Fridays until Christmas. Is that wild or what? I have mixed feelings because I LOVE the holidays, but I also want time to slow down a bit! I'm ready for a relaxing weekend and super excited to share this week's Friday Favorites with you!! Take a peek!
What I'm Watching
Who else watched the premier of A Million Little Things last week??  I'm loving the new season already and feel so invested in these characters! I'm still binging The OC for the 4th time (it's one of my favorites)! Mr. Fancy and I are also watching The Blacklist.  Anything else that I should add to my watch list?
What I'm Reading
I haven't been reading a ton lately. For a few reasons, mainly, I am exhausted at night and I am a total book binger, so if it's good, I will stay up all night reading it and then my cycle of exhaustion continues. Ha! I'm also still binging The OC and listening to podcasts and reading some self help books. But, there is just something about the fall that makes me want to curl up with a good book and cozy blanket. Ps grab this BLANKET! It's the best! I have so many books on my to-read list right now, but I thought I would share a few recent reads, so you can grab them!
If you want something scary for October…The Woman in the Window by A.J. Finn
If you want something suspenseful…Verity by Colleen Hoover (It was insane!!!!)
On my list this month…The Happiness Project by Gretchen Rubin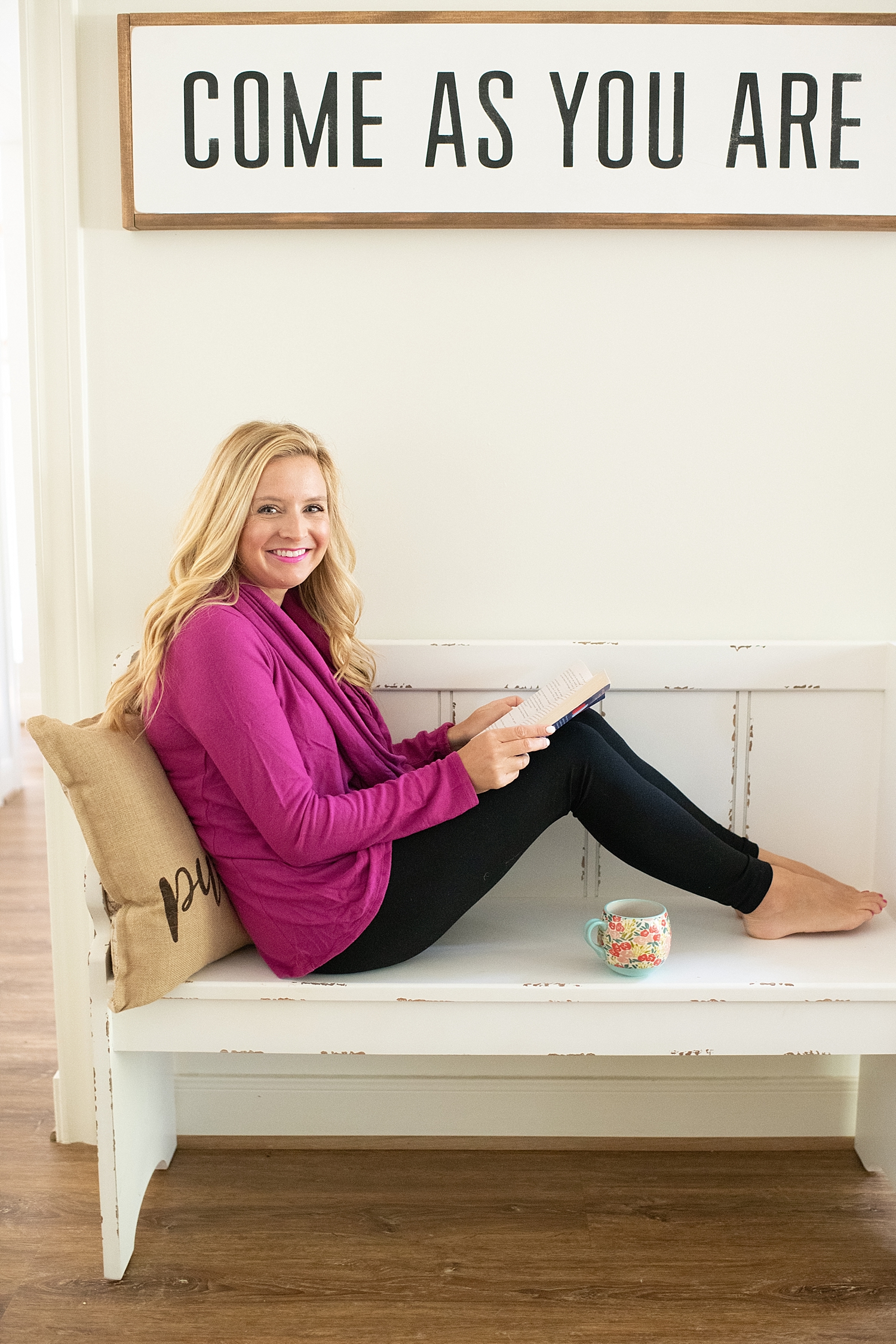 SWEATER // LEGGINGS // BENCH // SIGN // MUG (old)
What I'm Hearing
You guys are starting to get your Gibson Fall Refresh pieces in and your feedback is making me so, so happy! I love my pieces and all of the other pieces from the collection!!  Earlier this week, my assistant was wowed when she got to see this blazer in person! She kept saying she wasn't expecting for it to be as soft and stretchy as it is.  The brushed material is so easy to make it a casual, throw and go piece over a t-shirt or a dressier work or holiday outfit with a sleek black outfit and heels. She ordered it on the spot! There are still sizes available in this one, so run don't walk before this blazer sells out, too!
BLAZER // TEE // JEANS // MULES // PHONE CASE
What I'm Eating
Yesterday I realized our kitchen was a little bare so a little Instacart from the Costco to the rescue! LOVE their chicken street tacos kit! So delicious and so easy! PS Put this kit from the Costco on your list for next week's Taco Tuesday and go ahead and grab this tee to go with it!  I'm obsessed with this fun graphic tee!
What I'm Wearing
TOP (XS) // JEANS // HAT // MULES // MULES // PHONE CASE
TOP (XS) // JEANS // BOOTIES // PHONE CASE
BLAZER (XS) // TOP (XS) // JEANS // HEELS
TOP (XS) // JEANS // BOOTIES // PURSE // MONOGRAM NECKLACKE (big A) // MONOGRAM NECKLACE (mini a) // EARRINGS
TOP (XS) // TOP (PLUS) // JEANS // HAT // MULES // MULES // BAG // STRAP
What I'm Excited About!!!
Beautycounter just announced a brand new offer for customers who purchase a skincare collection, you will be gifted a FREE Overnight Resurfacing Peel which is a $63 value. I've really been working on fading a few sun spots on my face and this peel has given me amazing results!  I'm just blown away by how this company rewards it's customers who want to tackle their skin issues, but with clean ingredients! Want clean anti-aging products, use Countertime! Acne prone and need help? Use Countercontrol! Want to get your guy into cleaner products, grab him some Counterman (this is what Mr. Fancy uses)!
I hope you guys have a wonderful weekend!! See you back here Monday with some super exciting news!!! XO!!