Hi friends and happy first Monday of 2020! Are you back in action today? We semi are. My kids actually don't go back to school until Wednesday, so we have a couple more days at home, but for the most part, we are back to work, back to appointments, etc. I'll be honest, this was probably my favorite holiday season to date. The past two weeks have been SO nice and it's been so nice having my husband home, not a lot of plans and just hanging out as a family. I'm a tad sad to go back to reality in a sense because of the hustle and bustle that awaits us, but I also know that I am going into the year with goals to have more family downtime! Today, I am still recapping 2019 and I am excited to bring you some of MY favorites from the year! Last week, I shared reader top picks in THIS POST and today, I'm excited to share a few of my faves with! All are still in stock and available! Take a peek!
My Top Favorites of 2019
These glitter mules are just so me! They are a bit of a splurge, but I have worn them A TON, so that is how I justified them. These are definitely shoes that can be worn all year, so I know they will continue to be a wardrobe staple. I'm pretty in love with all SJP shoes…I feel like they are just so Carrie Bradshaw from Sex in the City and I love how fancy they all are!
GLITTER MULES // JEANS // SWEATER
The Best Sweatsuit Ever
This sweatsuit is pretty amazing. It's soft, washes amazingly and it's perfect for lounging around the house or for being out and about. These are my go to sweats these days. Love that they come in all sorts of colors, too!
THE BEST SWEATSUIT TOP // PANTS // SNEAKERS // EARRINGS
I've worn this brand for years, but this year, I added more of them to my closet. They fit so well and are perfection on all body types. Good American is size inclusive and I really love how their jeans fit me. They are definitely one of my favorite designer denim brands.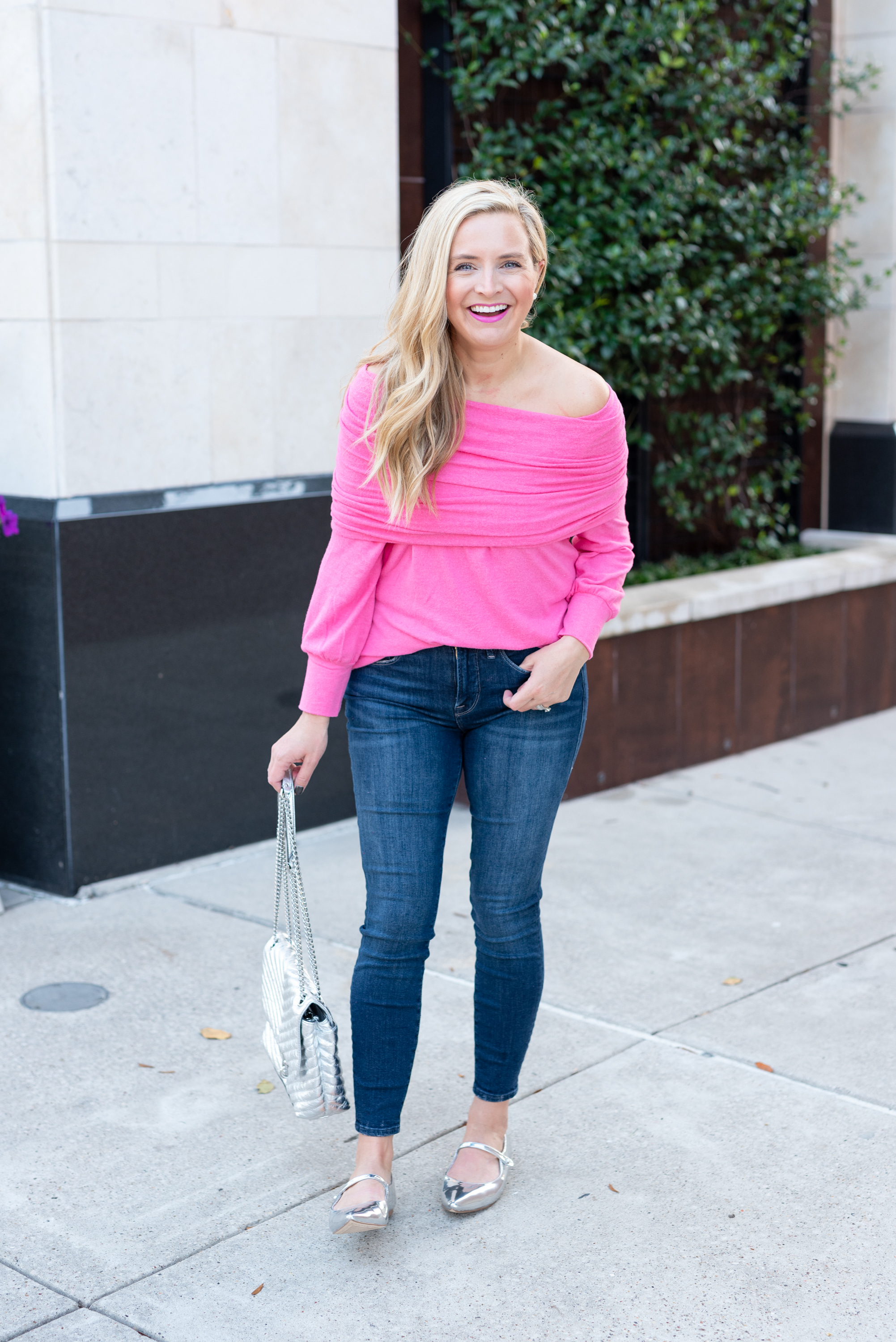 TOP (small) // JEANS (2) // SHOES // SIMILAR PURSE // SIMILAR EARRINGS
I've worn Spanx leggings for years, but this leopard pair has quickly become a favorite! They are so fun and perfect to dress up or dress down! I recommend sizing up in these, as they are not as stretchy as the other faux leather pairs!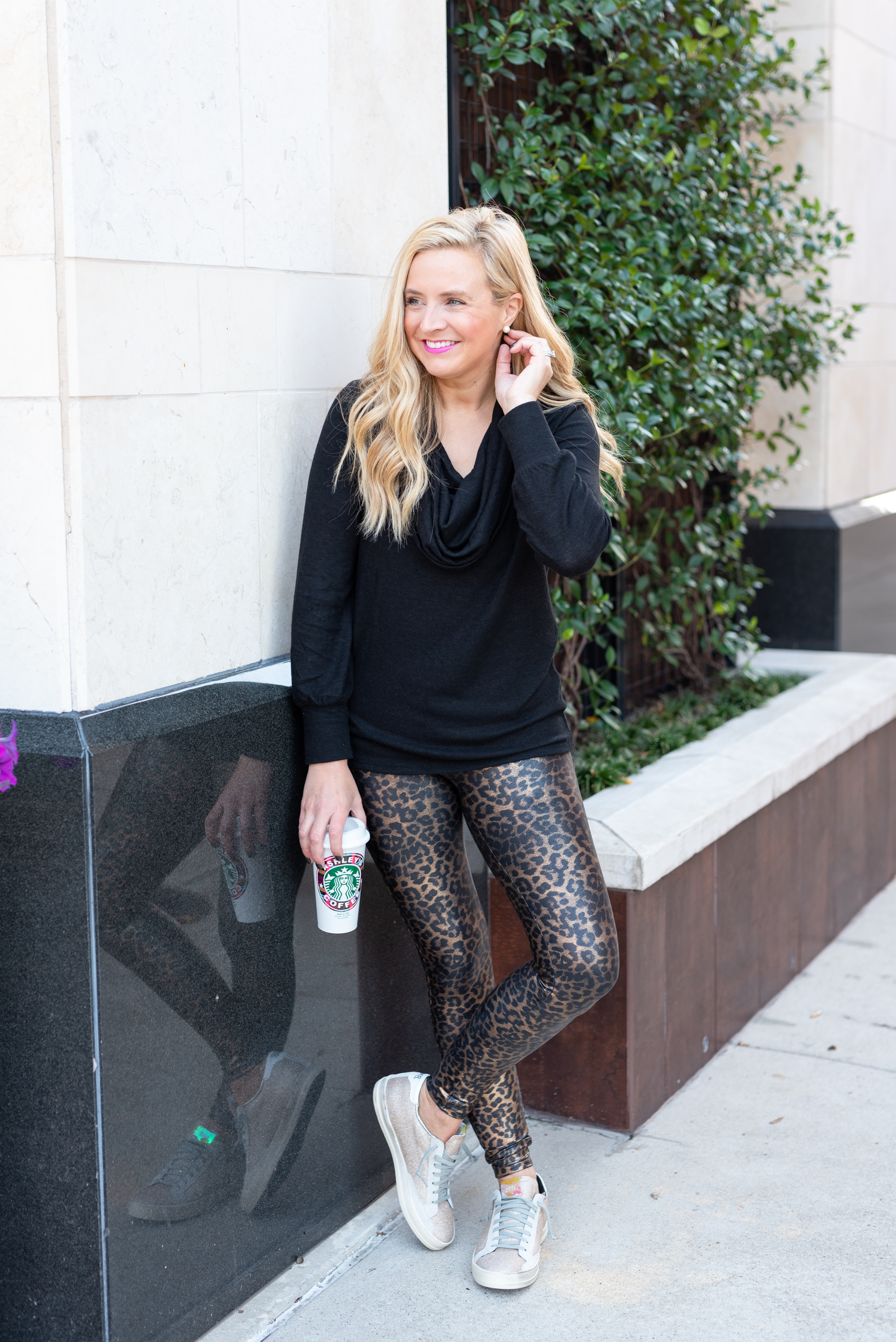 TOP (small) // LEGGINGS (medium-100% size up in these) // SIMILAR EARRINGS // SNEAKERS
I love a good sneaker…I have for years! I discovered p448 sneakers this year and they are my new favorites…They are definitely a better price point than some designer sneakers and most importantly, they are comfortable. I've had foot issues the past few months and these have been great. I have them in glitter and a leopard print!
This jacket has been one of my best and most worn purchases! It's perfection. You can dress it up or dress it down! The hood is also detachable, so you don't have to keep it on. It's a great price point and it'll definitely become a jacket grab as you are running out the door. I seriously love this one!
Colorful Bracelets
I've loved watching these fun colored bracelets become bigger this year. Honestly, I've always been a huge fan of fun bracelets and even as a kid/teen, I wore them. I'm linking up some of my current favorite bracelets that are in stock still, they are just such a fun way to add a pop of color arm party to any outfit!
COLORBLOCK BRACELETS // ENAMEL BRACELETS // MULTI COLOR TILE BRACELETS // GOLD TILE BRACELETS
These are a great pair of sandals that I waited a bit to take the plunge on and after I did, I wondered why I waited! They are perfect to dress up or dress down and they go with EVERYTHING!!
I've worn this dress for years. I have it in SO many colors! It's the perfect day to night dress and you can't beat the price!!
DRESS (MEDIUM) // SIMILAR WEDGES
I wear these headbands to sleep, put on my makeup, etc. They are slim so they don't crease your hair. I LOVE them!!
Vegan Leather Bags and Straps
Bags and fun straps have become a thing this year and I love adding a pop of color, so I have LOVED this trend! Here are my two favorite straps…You can put them on any bag that has a cross body strap option, too!
PURSE // STRAP // SWEATER // EARRINGS
BAG // STRAP // TOP // JEANS // SHOES // SIMILAR HAT
Cozy Top and Jogger Pants
Gibson is one of my favorites and these joggers are again a favorite of the year! I wear them A TON! The nice thing is, they are perfect for lounging, but you can also throw on some sneakers and head out, too! This top is a favorite as well. It comes in numerous colors and can be worn off the shoulder as well. It's a great wardrobe staple because you can dress it up or dress it down!
TOP // JOGGER PANTS // P448 SNEAKERS
These are just a few of my favorites from the year…you know there's more, but these are my standout pieces! Did any of these make your 2019 favorites list?
Have a great day! XO!
If you liked this post, you'll love Workwear Wednesday and 12 Most Shopped November!