Hi friends and happy Tuesday! Hoping this week is starting off well for you. I'm back today 11 things I'm loving right now! Take a peek!
11 Things I'm Loving Right Now
1. Loving this TIE DYE GAITER and this TIE DYE GAITER and I'm hoping they restock them! These GAITERS are also fun and lots of color options!
2. Loving this GRATEFUL bracelet as a daily reminder! I think it's great to add to a bracelet stack!
3. I am obsessed with the new HEIRLOOM COLLECTION from Victoria Emerson! I am so excited for the three bracelets I ordered. They are the perfect, everyday gold bracelets!
4. This TIE DYE PEPLUM TOP is such a must! Also love that it comes in a leopard print and solid colors!
5. ESSENTIAL OILS– I've used oils for years and truly can't live without them. My daily favorites are peppermint, lavender (I use on my dryer balls) and Thieves. Grab the Welcome Home Kit to try out all my favorites and add in a bottle of Thieves cleaner, too! I am obsessed with this stuff.
6. I love DRYER BALLS! Do you use them? They are so much better for you than using a static sheet and I love dropping a few drops of lavender to each ball with my laundry loads. Reagan likes to do a mix of lavender and lime on her clothing loads! It's fun to see the combos that the kids come up with.
7. My favorite FACE SUNSCREEN is back in stock! If you're not using a daily SPF on your face, take it from me that you should be! I have massive sun spots on my face because I didn't use sunscreen for years! I now wear it daily! This lotion is sheer and fabulous! It sold out within a few days before!
8. These custom PURSE STRAPS are so fun! Loving my stripe one, but also love Erin's leopard strap and Lindsay's Good Vibes strap! They are perfection on a vegan leather bag or on a designer bag!
9. I'm loving these SHORTS! They come in numerous colors! They are so perfect for errands, lounging and more! This TANK would be really cute with them, too!
10. My favorite little hair care set from Colleen Rothschild is the best If you haven't tried their hair products yet, these are a must! I am obsessed with the conditioning mask! It's so  good!
11. I love this NEON TANK DRESS. I have a similar one from HERE that is low on sizes and I loved this DRESS as a plan b option! Add to cart!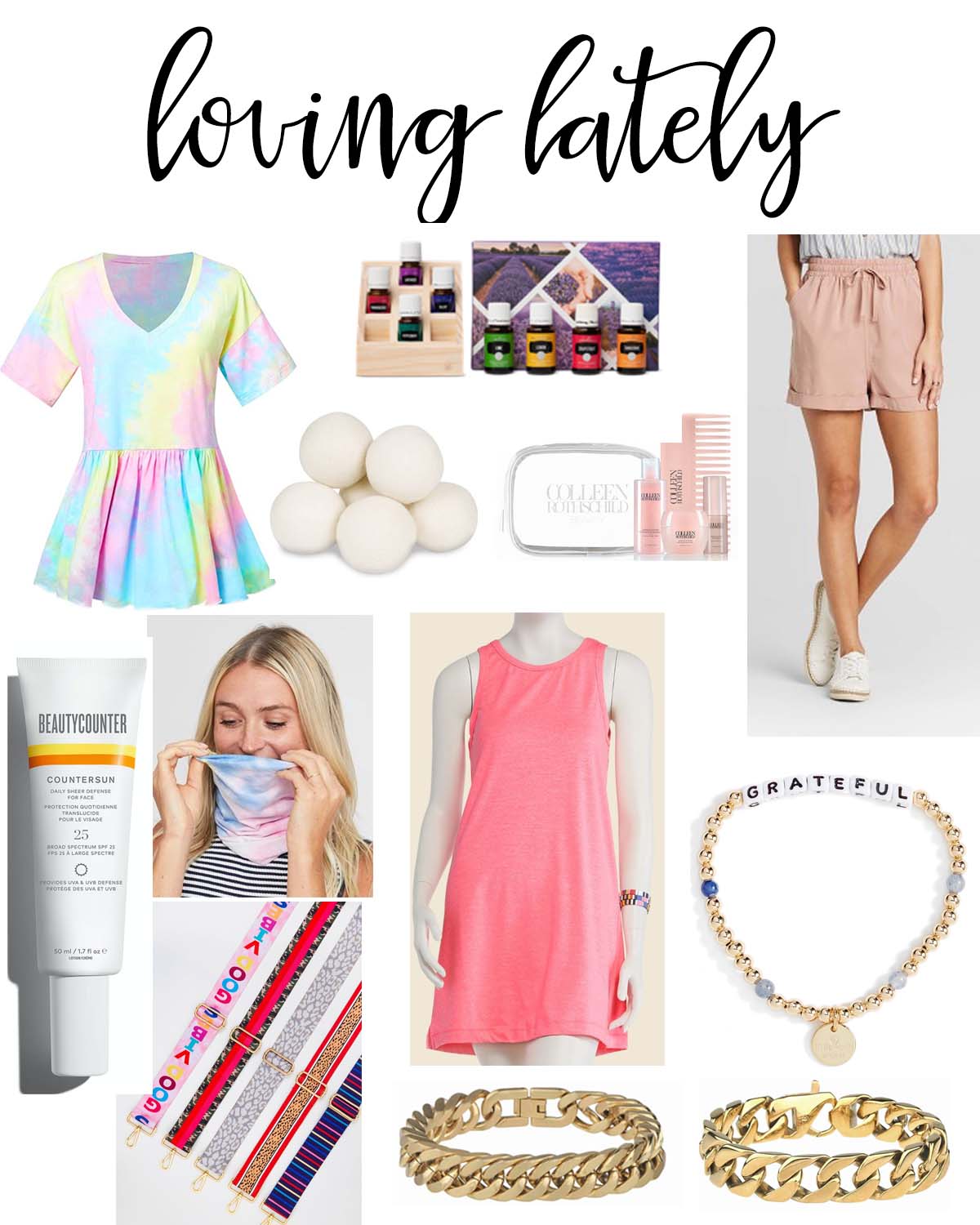 TOP // ESSENTIAL OIL KIT // DRYER BALLS // HAIR SET // SHORTS
SUNSCREEN // GAITER // DRESS // GRATEFUL BRACELET
PURSE STRAPS // BRACELET // BRACELET

What are you loving right now? Anything that I should add to my current list?
Have a great day! XO!
If you liked this post, you'll love Recent Amazon Favorites and Beach Essentials!