Hi friends and happy Friday! We made it to the weekend! My kids' weekend started on Tuesday when they canceled school for the week due to the hurricane that's coming. That was a bummer for them because they are SO happy to be back at school with friends, so both are excited for Monday when they can be back! I'm excited to be back with Friday Favorites! It's been a few weeks since I've done one of these posts, so I'm sharing everything that is making my week! Take a peek at this week's Friday Favorites!
The Leopard Top You Need For Fall
I grabbed this top and couldn't love it more! It's a great staple! I grabbed it in black, too, but wanted to show you a few ways to wear it as we head into fall! Take a peek!
TEE (medium-i would size up) // JEANS (28, SHORT) // MULES // NECKLACE // PURSE // SIMILAR PURSE // PLAID STRAP
TEE (medium-I would size up) // JEANS (28, SHORT) // MULES // NECKLACE
TEE (medium-i would size up) // SWEATSHIRT CARDIGAN // JEANS (28, SHORT) // MULES // NECKLACE
TEE (medium-I would size up) // SWEATSHIRT CARDIGAN // LEGGINGS (small) // SNEAKERS // NECKLACE
Treadmill
Okay, so you know I love my Peloton Bike, so I had planned to add the Tread to my life this past spring. Well, due to corona, they will not deliver in my area. I've been trying since March! That being said, I grabbed this treadmill for the interim and planned to gift it to my sister once I could buy a Tread. I've been using the Peloton app and doing the run/walk classes and power walk classes and it's been great! My goal has been to walk or run at least a mile a day and this has really helped me do that! My biggest excuse here in Houston was the weather and with this inside my house, I have zero excuses. The price point was great on this and it had good reviews, so I thought I'd try it! Loving it so far, plus it folds up and was easy to put together! We keep it out all the time, so I haven't tried the folding option, but I thought it was to know it was able to do that! Just wanted to share in case you're in a similar position and looking for a different treadmill option.
Watch Straps
You know I love Victoria Emerson and I am living for all of their new watch straps for the apple watch! How fun are these? I ordered this STRAP and this STRAP! Cannot wait to share them with you when they arrive!
Lipgloss
Beautycounter rereleased their lip glosses with a new formula to make them longer lasting, plus they are now made with better and more sustainable packaging. I am loving all of them, but my favorites are RASPBERRY, MAGNOLIA SHIMMER, BRULEE, QUARTZ SHIMMER AND PEONY!
Fall Candles
My sister got me this amazing candle for my birthday and I can't stop burning it! I love it so much that I went and bought this smaller harvest candle and this copper harvest candle! These are not only adorable, but they smell like fall to me! Plus, they would make an awesome gift or hostess gift! Love love love them!!! Time to stock up for fall and winter!
I love this doormat set! It's a favorite! I started doing this combo a few years ago and I still love it!
Amazon Home
I shared this Amazon Home collage in YESTERDAY'S POST and I love it so much that I had to share it again! I'm ready to get my fall decor out because WHY NOT?! We are spending so much more time at home, there is no reason why not to get our homes cozy and ready for cooler weather (if that ever arrives here! ha!)!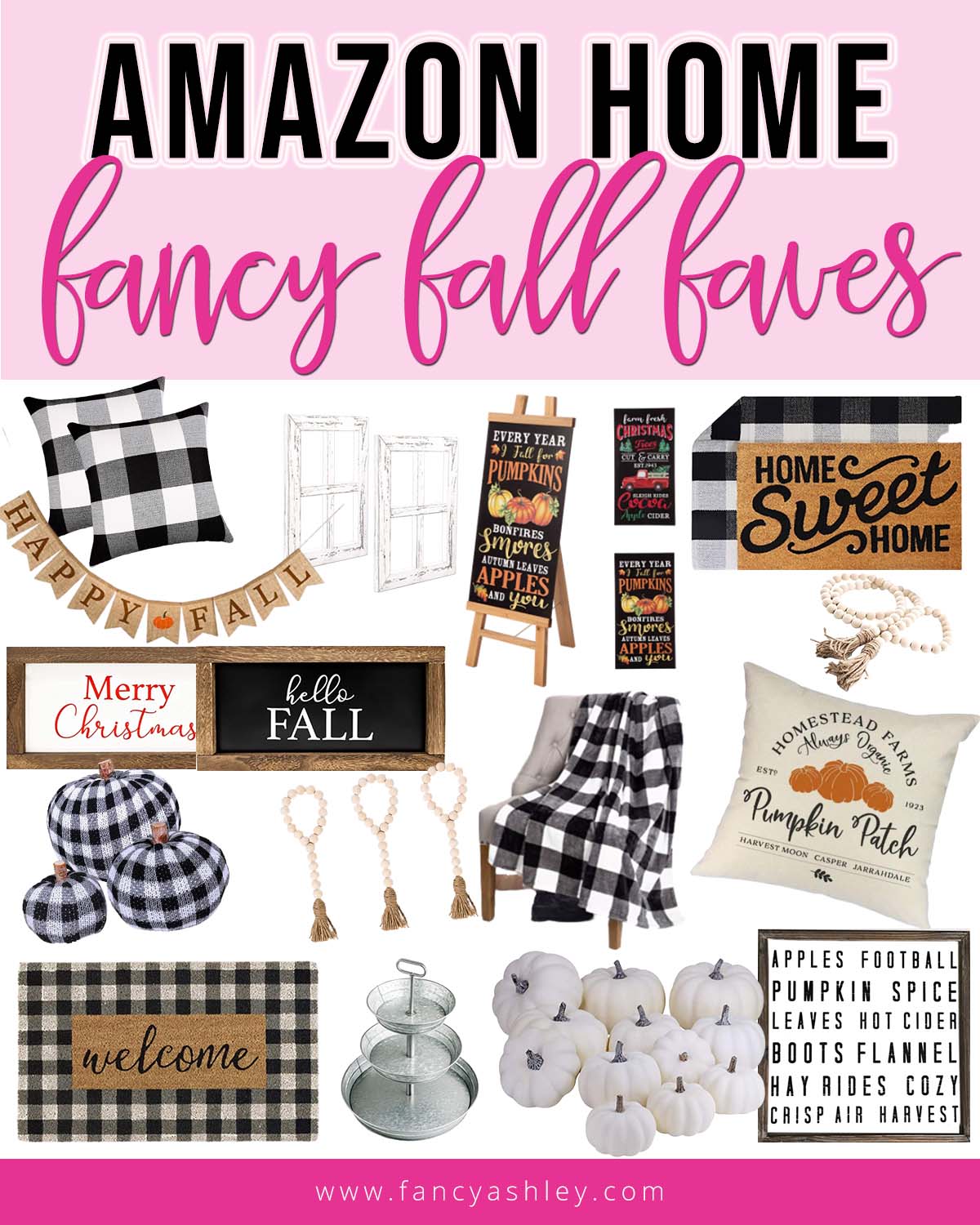 PILLOWS // BUNTING // DECORATIVE WINDOWS // EASEL SIGN // DOORMAT SET
FALL/XMAS SIGN // GINGHAM PUMPKINS // WOOD TASSELS // BLANKET // WOOD BEADS // PILLOW
WELCOME MAT // TIERED TRAY // WHITE PUMPKINS // FALL SIGN
I hope you all have had a wonderful week! Have a great weekend! XOXO
If you liked this post, you'll love Save or Splurge Amazon vs. NSALE Edition and Nordstrom Anniversary Sale!