Hi friends and happy Friday! I hope you've had a wonderful week! It's been a busy one here, but I can say that the tile is finished and for the most part, the construction is finished, too! I felt myself breathing a big sigh of relief yesterday after they left because it'll be nice to have my house back! The kids went back to school and the tile guys have been here ever since, so it's been loud and chaotic. I'm so excited to get back on track next week with a quiet house! I don't even remember what that feels like. Haha! I have some fun things to share with you in today's Friday favorites!! So much good stuff! Take a peek!
Friday Favorites
The $23 Sweater You Need in at least One Color
This SWEATER is too good to pass up! I can't get over the $23 price tag! I grabbed it in beige and black, but the olive green is also calling my name! Wear it casual, dress it up, these are sure to be sweaters that you wear a ton over the fall and winter!
SWEATER (Small) // JEANS // MULES // SIMILAR MULES // SIMILAR MULES // EARRINGS
SWEATER (SMALL) // JEANS (27) // MULES
SWEATER (SMALL) // LEGGINGS (MEDIUM, PETITE) // SNEAKERS
The Poncho You Need for Fall
I fell in love with with this PONCHO and then it sold out! I was so thrilled when it was back in stock! It's cute with shorts, jeans and my favorite, these LEGGINGS! These leggings are soft and like butter. I loveeee them!!
PONCHO (XS/S) // TEE (SMALL) // LEGGINGS (SMALL) // NECKLACE
Fall Purse and Strap Combo
Social Threads brought back their vegan leather bags and fall inspired straps just in time for fall! This gold bag is a favorite, but you can't go wrong grabbing the brown or black, too! Grab a fun strap and you are set for fall! Naturally, I am drawn to the tartan plaid strap! It's such a good one! This sweatshirt DRESS and SNEAKER combo is giving me life, too! The perfect casual outfit for errands, lunch with friends, lounging, school pickup and more!
DRESS (MEDIUM) // SNEAKERS // PURSE // STRAP // SUNGLASSES
The $25 Striped Puff Sleeve Tee
I fell in love with this PUFF SLEEVE TEE! So much so, that I grabbed it in both colors! Darling with jeans, cute with denim shorts, too! It'll be great layered under a sweater or jacket once the weather gets cooler, too!
TEE (SMALL) // JEANS (27) // MULES // SIMILAR MULES // SIMILAR MULES
My Favorite Fleece Sweatshirt for Fall
I have worn these fleeces for years and have quite the collection! I am loving all the new prints this year, but of course just had to have the camo print! I typically do the small, but sized up to a medium in this one, so that I can potentially later it for colder weather, skiing, etc!
FLEECE PULLOVER (medium) // JEANS (28, Short) // SNEAKERS
The Newest Face mask I'm Wearing
While I don't enjoy wearing the masks, I've been on a mission to find the ones that make me feel less claustrophobic. I recent tried THESE and they've been great! I switch between them and my Rothy's masks. Both are pretty breathable and way better than most I've tried! Plus, these come in super cute and fun prints! See them all HERE.
My Favorite Joggers are still on SALE!!
These JOGGERS are fab! Wear to them to lounge, workout, etc! They are great and they are on sale, which rarely happens! They run small and at 5'2, I'm in the size 8!
JOGGERS (8) // TEE (small) // HAT // SNEAKERS
New Kendra Scott Fall Collection
The new fall Kendra Scott collection is here and I am obsessed! I also have a 20% off code for you, but it's only valid today! Grab a few favorites with code KSFALL!
Everything You Need to Know about Brick Flooring
Earlier this week, I shared Everything You Need to Know about Brick Flooring in THIS POST! If you've ever had a question about brick, changes are I covered it in that post! Take a peek!
Marble and Brass Tray
This TRAY was such a great purchase! In an effort to really stay organized, I grabbed this for my bathroom counter and it's been great! I have grand plans of empty, clutter free counters, but I can never seem to make that a reality, so a place to put it all, seemed like the best idea!
Amazon Fall Favorites
I've shared this before, but it's a fave! Don't forget to add some fall to your house! This list should help!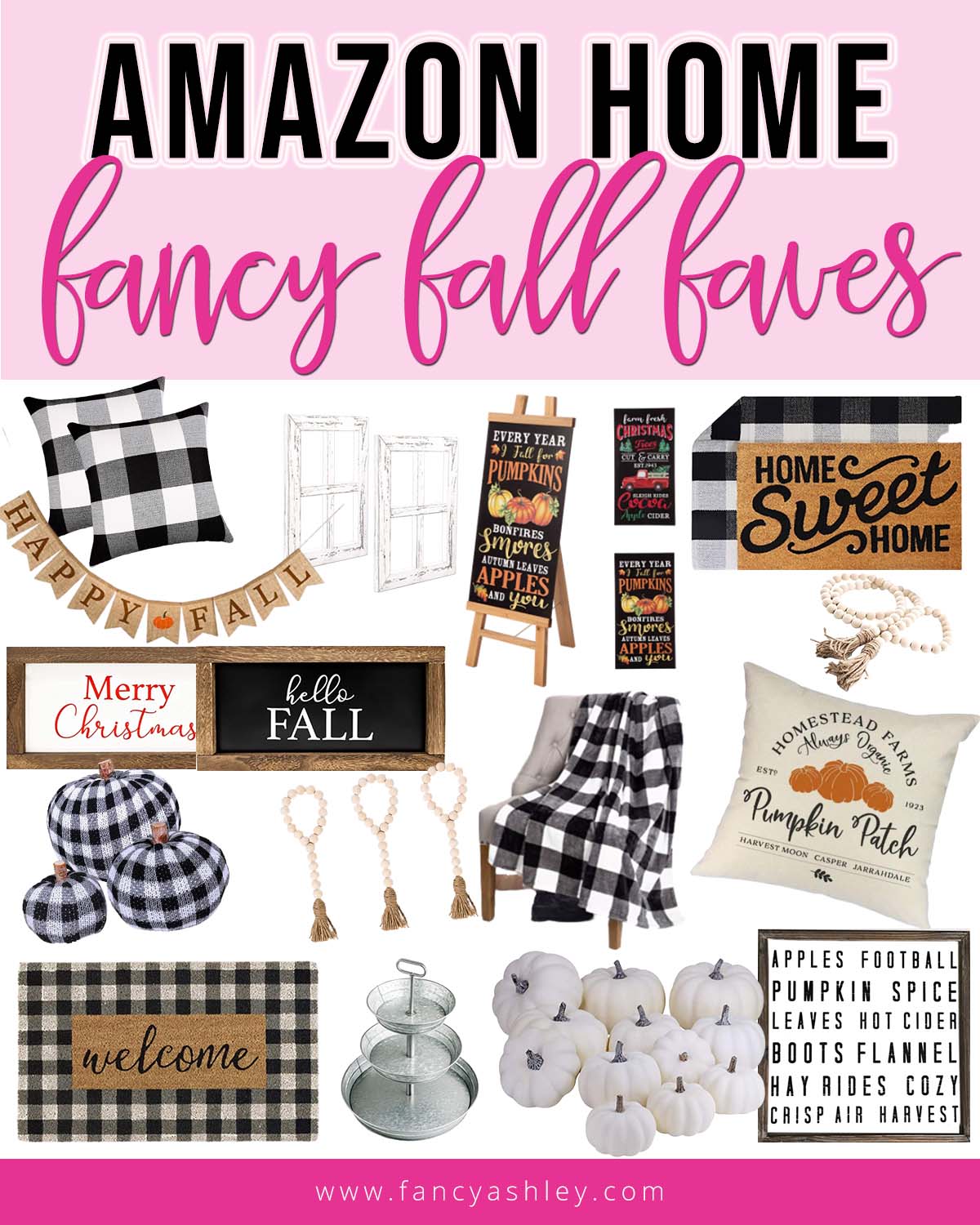 PILLOWS // BUNTING // DECORATIVE WINDOWS // EASEL SIGN // DOORMAT SET
FALL/XMAS SIGN // GINGHAM PUMPKINS // WOOD TASSELS // BLANKET // WOOD BEADS // PILLOW
WELCOME MAT // TIERED TRAY // WHITE PUMPKINS // FALL SIGN
Have a great weekend! XOXO